When you find yourself traversing the iconic bourbon landscape, two giants undoubtedly stand tall, offering unmatched quality and a history that seeps through each bottle they produce – Knob Creek and Woodford Reserve. In your quest to find the bourbon that resonates with your palate, understanding the nuanced differences and the distinct attributes of each can be pivotal.
Knob Creek is Rooted in Tradition
Tracing its genesis to the early 90s in the heartland of Clermont, Kentucky, Knob Creek has established itself as a staple for bourbon enthusiasts. It's a creation that springs from the legacy carried forward by Fred Noe, a descendant of the illustrious Jim Beam lineage. Its name echoes the waters of a tiny brook running through the Beam family farm, offering an interesting tidbit to regale your guests with as they savor a glass.
Woodford Reserve
Meanwhile, Woodford Reserve narrates a tale steeped in history, originating from a small yet noteworthy distillery in Woodford County, Kentucky. This stalwart has been holding the fort since 1812, consistently crafting bourbons that resonate with both connoisseurs and novices alike. It retains its commitment to age-old protocols, ensuring the integrity of each bottle that bears its name.
The Offerings
Available Knob Creek Varieties
With Knob Creek, you'll find a spectrum of offerings each more enticing than the last. Whether you gravitate towards a bourbon abundant with oak and vanilla tones or you have a penchant for a spicy kick that is nicely balanced with undertones of cloves and cinnamon, Knob Creek ensures a variety that caters to diverse tastes.
At the heart of the collection stands the original Knob Creek bourbon. Crafted with a blend of 75% corn, 13% rye, and 12% malted barley, it is bottled at 100 proof, offering indulgent and sweet overtones coupled with the warm flavors of oak and vanilla.
For those with a penchant for a spicy kick, the Knob Creek Straight Rye Whiskey will be the choice, boasting a high rye content of 95%, complemented by 5% malted barley. Bottled at a potent 100-proof, this whiskey unfolds a spicy narrative in your glass, highlighting tones of cloves and cinnamon.
They also have the Smoked Maple Bourbon Whiskey, a sensory delight blending 77% corn, 13% rye, and 10% malted barley. A 90-proof concoction, it undergoes a unique maturation process in new American oak barrels smoked with maple wood, introducing a pronounced smoky profile underscored by subtle hints of maple syrup.
The Knob Creek Single Barrel Reserve mirrors the original bourbon in its composition, promising a taste that is both familiar and exhilarating.
Woodford Reserve Available Varieties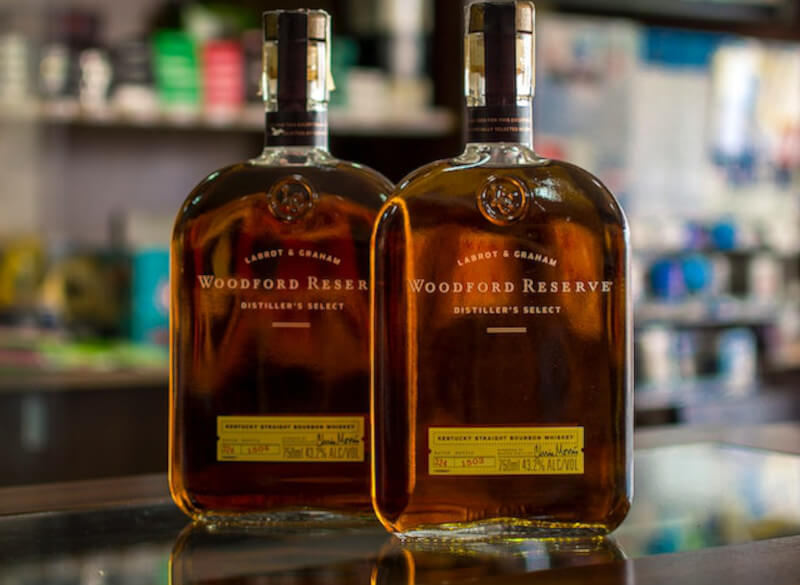 On the other hand, Woodford Reserve Stepping into the Woodford Reserve collection, one can expect a labyrinth of sophisticated flavors, rooted in a unique mash bill of 72% corn, 18% rye, and 10% malt. From the sweet embrace of honey to the subtle kick of ground ginger, it is a flavorful parade that celebrates the bourbon heritage with grace.
This bourbon greets your senses with a generous and layered profile, unraveling notes of honey and spice with undertones of leather and cocoa, tied together with whispers of oak and vanilla cream. As it dances on the palate, it narrates a vibrant tale of winter spices, grounded ginger, and almond oil, eventually leaving a warm, toasty note lingering, enriched with vanilla cream.
The Woodford Reserve offers three main expressions to its patrons: the beloved original Bourbon, the potent Distiller's Select, and the uniquely crafted Double Oaked, all having their base in the distinctive mash bill that features 72% corn, 18% rye, and 10% barley.
The Distiller's Select takes the original Bourbon a notch higher in terms of proof, retaining the same celebrated mash bill, while the Double Oaked ventures into a unique realm, undergoing a finishing process in a second fresh charred oak barrel, augmenting its flavor profile substantially.
Woodford Reserve also introduces its connoisseurs to two rye whiskeys, namely the Rye and the Kentucky Straight Rye, which come to life through a mash bill comprising 53% rye, 33% corn, and 14% barley. While the Rye enjoys a maturation period of four years with a proof of 90, the Kentucky Straight Rye ages gracefully for at least six years, bottled at a robust proof of 100, offering a deeper, fuller experience.
Their Tasting Profile
Knob Creek
In the tasting arena, a glass of Knob Creek greets you with a symphony of flavors, promising a tapestry woven with meticulous care over nine long years of aging. You'd notice the dominant vanilla tone, cradled with light wood and green peppercorns, offering a balance that is both luxurious and grounded. It promises uniformity in taste, a characteristic achieved through a single-barrel production strategy, ensuring consistency across bottles.
Woodford Reserve
Conversely, Woodford Reserve is akin to embarking on a sensorial voyage that beckons with a rich ensemble of flavors harmoniously playing through. The bourbon speaks of elegance, with a flavor profile that is robust yet refined, inviting you to uncover layers with every sip, from toasty wood to a hint of rum, teasing your senses enticingly.
The Kentucky Derby Connect
 

A Toast with Woodford Reserve

It's worth noting the illustrious association of Woodford Reserve with the Kentucky Derby, a relationship that has stood the test of time since 1938. Each year, a special Derby Edition makes its appearance, offering bourbon enthusiasts a chance to hold a piece of this historic event, through a bourbon that carries the spirit of the race in each bottle.
These Whiskies Call For a Cocktail
When the evening calls for a cocktail crafted with skill and precision, both Knob Creek and Woodford Reserve stand tall as worthy contenders to grace your glass.
Classic Manhattan with Knob Creek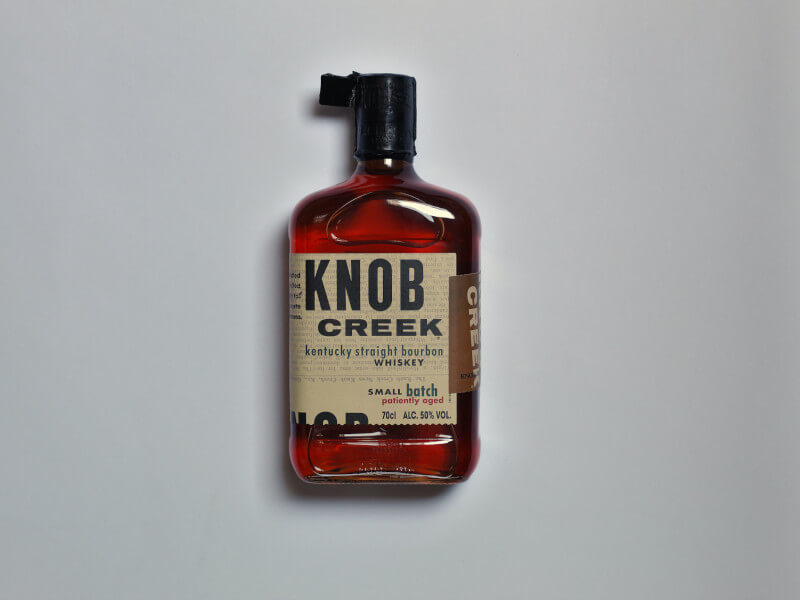 A night spent sipping a well-crafted cocktail can become a memorable one, especially if that cocktail is a classic Manhattan made with Knob Creek. Knob Creek, renowned for its rich and deep flavors with a notable sweetness derived from its meticulous 9-year aging process, can stand as the hero ingredient in your Manhattan cocktail.
Ingredients:
2 oz Knob Creek Bourbon
1 oz Sweet vermouth
2 dashes of Angostura bitters
1 Maraschino cherry (for garnishing)
1 Twist of orange peel (for garnishing)
Directions:
Fill a mixing glass with ice and pour in Knob Creek bourbon, sweet vermouth, and Angostura bitters.
Stir the mixture gently yet sufficiently to combine the elements harmoniously and to chill the concoction to your preference.
Strain the blend into a chilled martini or coupe glass.
Garnish your luxurious Manhattan with a twist of orange peel and a maraschino cherry, a tip of the hat to tradition and a nod to the complex flavors in your glass.
While crafting your Manhattan, you can expect the caramel and vanilla undertones of Knob Creek to be elevated, blending remarkably well with the sweet vermouth while the bitters add that necessary kick, balancing the sweetness and adding depth to the drink. It is the embodiment of a rich and multifaceted experience that speaks to the refined palate.
 

The Duel of the Price Points

When you look at the prices you'd find Knob Creek presenting a more accessible entry point in terms of pricing compared to Woodford Reserve. It ensures a rich and nuanced experience without necessitating a deep plunge into your wallet, making it a favorable choice for many. Let's take a look at both of these whiskies price ranges:
| Product | Knob Creek (USD) | Woodford Reserve (USD) |
| --- | --- | --- |
| Original Bourbon | $35 – $50 | $30 – $50 |
| Straight Rye Whiskey | $35 – $50 | N/A |
| Smoked Maple Bourbon | $30 – $45 | N/A |
| Single Barrel Reserve | $40 – $60 | N/A |
| Distiller's Select | N/A | $30 – $55 |
| Double Oaked | N/A | $50 – $70 |
| Rye Whiskey | N/A | $35 – $55 (for both Rye and Kentucky Straight Rye) |
With what we see here with Knob Creek and Woodford Reserve, it is evident that both offer avenues of enjoyment that are unique yet grounded in a rich heritage of bourbon crafting. It's not just about the flavor profiles or the intricate notes that play on your palate; it's about the stories that echo in each bottle, the commitment to quality, and the promise of an experience that delights with each sip.