Whisky, one of Scandinavia's most famous commodities, is quickly gaining an international reputation as a magnificent product in its own right, joining the region's well-known fjords, spectacular northern lights, and rich Viking heritage. Denmark, Norway, and Sweden, which form the northernmost portion of Europe, are striving hard to carve out a position for themselves in the global whisky industry, impressing enthusiasts with their distinct and unique flavor profiles.
A Northern Resonance
Even though Scandinavia has only just entered the whisky market, the region is quickly gaining praise for the approach it takes to distillation. At the heart of this lies a particularly Scandinavian mentality: an unwavering commitment to quality, sustainability, and local sourcing.
"We focus on making a quality product that reflects our local environment," Angela D'Orazio, Master Blender at Mackmyra, Sweden's first whisky distillery, says. In Swedish, "Mackmyra" translates to "Mackmyra." "We believe that making whisky in harmony with nature, using Swedish ingredients and environmentally friendly processes is the best way to go." The meteorological patterns that predominate in Scandinavia are also important. Because of the long winters and short summers, the maturation process is slower than typical, allowing the whisky to develop a flavor profile that is both deep and rich.
The Whisky Belt
The production of whisky in Scandinavia is nearly exclusively concentrated in a region known colloquially as the "Whisky Belt." Denmark, Norway, and Sweden are all part of this region, and each brings something unique to the whisky-producing process.
Distilleries such as Mackmyra and Box, as well as Spirit of Hven, are at the forefront of this movement in Sweden. Mackmyra's Svensk Ek, which is aged in spicy Swedish oak casks, and Box's Dalvve, which is known for its rich and balanced profile, are just two examples of the flavors present in their whisky products.
Stauning Distillery in Denmark is yet another rising star on the Scandinavian whisky scene. The distillery produces both traditional and unique whiskies. Since the removal of Norway's prohibition on the manufacturing of spirits, the country has been carving its way into the world of whisky with the support of distilleries like Myken and Det Norske Brenneri.
A Nordique Flavour Palette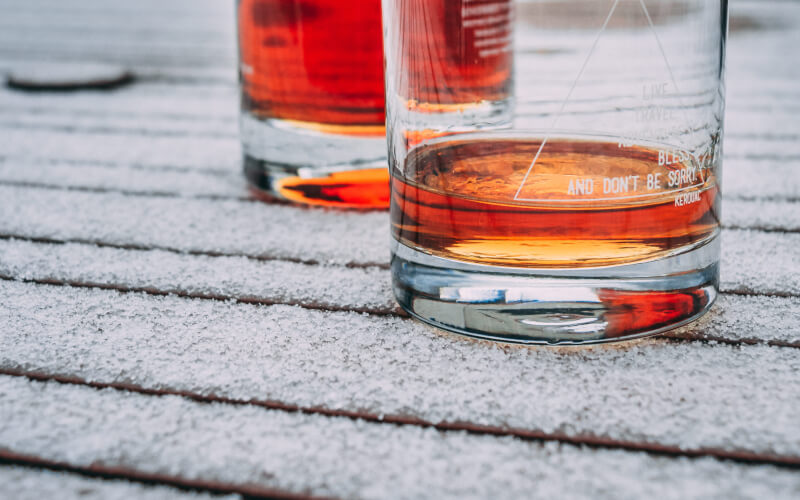 Whiskies from the Nordic countries are known for their powerful flavors that are distinguished. Whiskies from Sweden, for example, have a sweet and fruity flavor profile with overtones of apple, pear, and vanilla. Norwegian whiskies usually have a more strong coastal influence, with aromas suggestive of saltwater and seaweed.
"We want to create a whisky that truly reflects our Scandinavian origin," Are Gjestland, co-founder of Norway's Myken Distillery, explains. "We want to make a whisky that accurately reflects our Scandinavian heritage." Our whiskies are aged in casks exposed to the midnight sun and the northern lights, imparting a particular Nordic character. Several distilleries also experiment with local peat and juniper smoke, adding another layer of depth to their whiskies.
The Increasing Number of Supporters
It's true, that Scandinavian whisky is becoming more popular as a spirit. Despite its infancy, the company has already garnered considerable global recognition. Mackmyra was named 'World's Best Single Malt' at the prestigious World Whiskies Awards in 2020. Tycho's Star, a single malt with a tantalizingly spicy and smokey flavor, was praised by Spirit of Hven. Mackmyra was named 'World's Best Single Malt' in 2020.
In terms of clientele, it appears that whisky enthusiasts who appreciate a modern approach to a time-honored spirit are growing increasingly interested in Scandinavian whisky as a product. Scandinavian whiskies have a lot to offer individuals who appreciate tasting new flavors and seeking spirits that are affected by the terroir of their origin.
After doing a study into the distinct scents and attributes associated with whisky produced in this region, we have created a list of 10 must-try products. Each one exemplifies the creative distillation procedures, one-of-a-kind regional ingredients, and persistent devotion to quality that set Scandinavian whisky apart from the competition.
Mackmyra First Edition (Sweden): Mackmyra's first core expression is a must-try for its light, fresh character. It offers crisp, fruity flavors with subtle hints of butterscotch and citrus.
Box Dálvve (Sweden): This Swedish single malt impresses with its lightness and balanced profile. Its flavors of vanilla, oak, and citrus make it a well-rounded, enjoyable dram.
Spirit of Hven Tycho's Star (Sweden): A tribute to the astronomer Tycho Brahe, this single malt offers an intriguing balance of sweet and spicy, with notes of pepper, dried fruits, and a hint of tobacco.
Stauning Rye (Denmark): One of Denmark's standout whiskies, this rye whisky presents a spicy profile, coupled with hints of caramel and a touch of smoke. A perfect choice for rye whisky lovers looking to explore Scandinavian expressions.
Stauning KAOS (Denmark): As the name implies, this Danish whisky is a riot of flavors. A blend of peated and non-peated, malted and unmalted rye, and finished in different types of casks, KAOS is an exciting, complex dram with a rich, smoky profile.
Myken Arctic Single Malt (Norway): Distilled in the world's northernmost whisky distillery, this expression offers an invitingly sweet and floral profile, with notes of honey, almonds, and summer fruits.
Det Norske Brenneri Audny Series 3 (Norway): A third release in the Audny series, this single malt showcases Norway's distilling prowess with its flavors of ripe orchard fruits, honey, and a touch of spice.
Smögen Sherry Project 1:4 (Sweden): A peaty, sherry-aged single malt that serves as a fantastic representation of Swedish whisky-making. The flavors are bold, with rich, fruity sherry notes intermingling with powerful peat smoke.
Teerenpeli Kaski Distiller's Choice (Finland): This Finnish single malt, matured in sherry casks, offers delightful sweetness with hints of dried fruit, toffee, and mild spice.
Kyrö Malt Rye (Finland): Distilled from 100% malted wholegrain rye, this Finnish whisky offers a unique, grain-forward flavor profile. Expect notes of dark chocolate, spice, and a hint of dark berries.
Each of these whiskies brings something different to the table, showcasing the vast range of flavors and styles emerging from the Scandinavian whisky scene.
Bringing the Potential Out Into the Open
Whisky from the Scandinavian countries is more than simply a passing craze; it is evidence of an entire region's pioneering spirit. Because of the unique flavor profiles it boasts, the priority it places on local sourcing, and the passion with which it pursues perfection, this whisky is poised to leave an indelible mark on the global whisky map.
"We're not just replicating what's been done before," says Patrick van Zuidam, master distiller at Zuidam Distillers in the Netherlands. "We are creating something that is uniquely Scandinavian, and this is what distinguishes our whisky from the competition."
Whisky collectors should prepare for a flood of Nordic flavor as more distilleries open and more Scandinavian whiskies become available elsewhere in the world. If the current trend is any indication, the future of Scandinavian whisky seems to be bright and exciting.